The Accelerator is a 3-month long program designed to engage motivated entrepreneurs to achieve targeted milestones and pitch their startups to top investors for an opportunity at non dilutive funding.
Application is now closed...
Joining Nationwide since 2021
Breaking down barriers of VC access
Entrepreneurs have accelerated businesses

in the following industries: Apparel, Cryptocurrency, Sports Nutrition, Entertainment, Digital Marketplace, Maternal Health, Scheduling Software, Beauty Spa & Wellness, Hair & Beauty, Self-Care, Crowd-sourced reviews
Entrepreneur Accelerator Program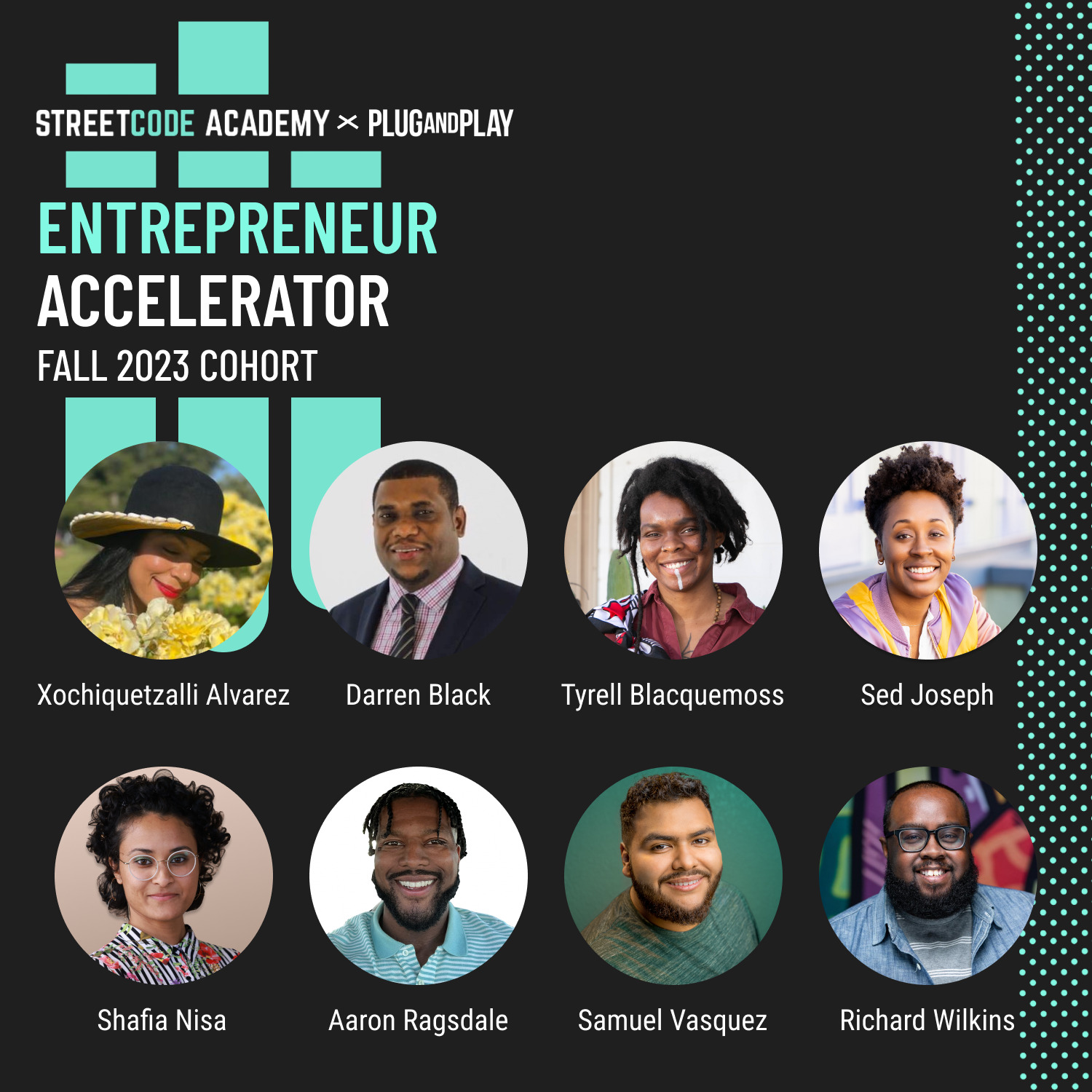 Welcome the Fall 2023 Cohort of StreetCode's Entrepreneur Accelerator Program! 
We've partnered with Plug and Play to provide another group of talented entrepreneurs with mentorship and an opportunity to pitch their startups to top inventors. Save the date for our Accelerator Demo Day coming to you virtually on December 7, 2023, at 6:00 PM PST. See you there
Throughout the program, participants will expand their knowledge-base in entrepreneurship, push their business to new heights, and grow their network with like-minded peers that have scaled their own businesses. Some benefits include:
September:
Start with their MVP Build to inform decision-making on the direction of the entrepreneur's product or service.
October:
Identify Product Market Fit & Validation to differentiate and position the entrepreneur's product against competitors in the market.
November:
Focus on growth strategies to create awareness and drive user growth and/or sales.
December:
Entrepreneurs will learn to tell their stories and prepare for Demo Day, and pitch to investors for non-dilutive funding.
Are these classes virtual or in-person? And when does the accelerator meet?
These classes are virtual and will be held weekly at 6 PM PST on Tuesday. To make full use of the program it's important entrepreneurs can be there for a majority of the classes. But we understand life happens so you it's okay if you miss a couple. The final Demo-Day Pitch Event will be a hybrid event, with the physical location being in East Palo Alto.
How far along do I need to be in my business to take the program?
This program is best suited for those with businesses that are in the early stages of establishment, with either a fleshed-out business model or legally established (LLC, company-formation, etc.) If you are still ideating and figuring out your business idea, we recommend taking our Intro to Hustle Class or Hustle II: Branding offered for free!
What do I get from participating in the program?
Entrepreneur participants will learn Lean Startup theory and gain invaluable hands-on experience and feedback that will help them fast track their careers in Entrepreneurship. This engagement will be facilitated by Streetcode Academy and top entrepreneurial talent. Throughout the program entrepreneurs will expand their knowledge-base in entrepreneurship, push their business to new heights, and grow their network with entrepreneurs that have launched their own businesses as well as others. Some other benefits include:
$1,000 in funding
Access to StreetCode database of business-development & VC opportunities
An entrepreneur in residence mentor to meet with bi-weekly.
Invitation to pitch at our final Shark-Tank style Demo Day
How can I best qualify for the program?
StreetCode Academy and our Partners are making tech entrepreneurship accessible to our communities. If you would like to volunteer your time, or partner as a company to build up this program, we are excited to talk to you.